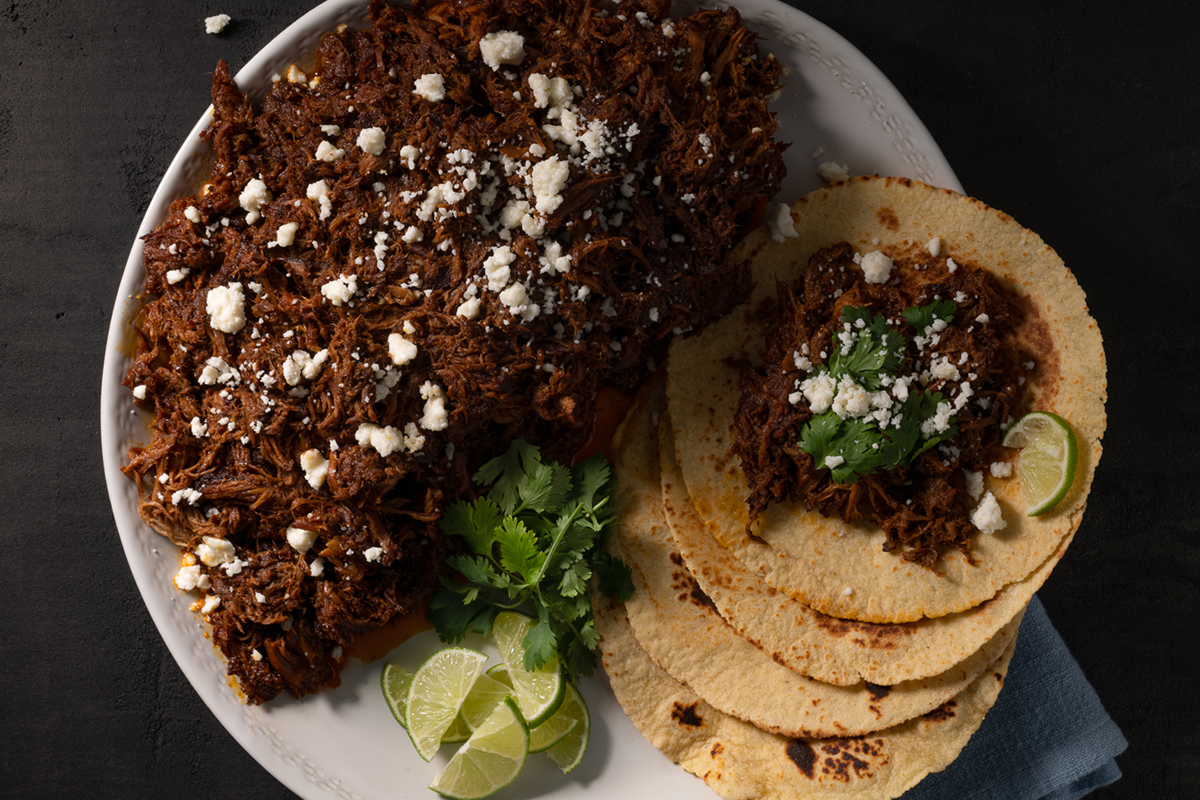 Ancho Chili Braised Pork Shoulder, Pickled Red Onions
Source: Chef Chris Evangelides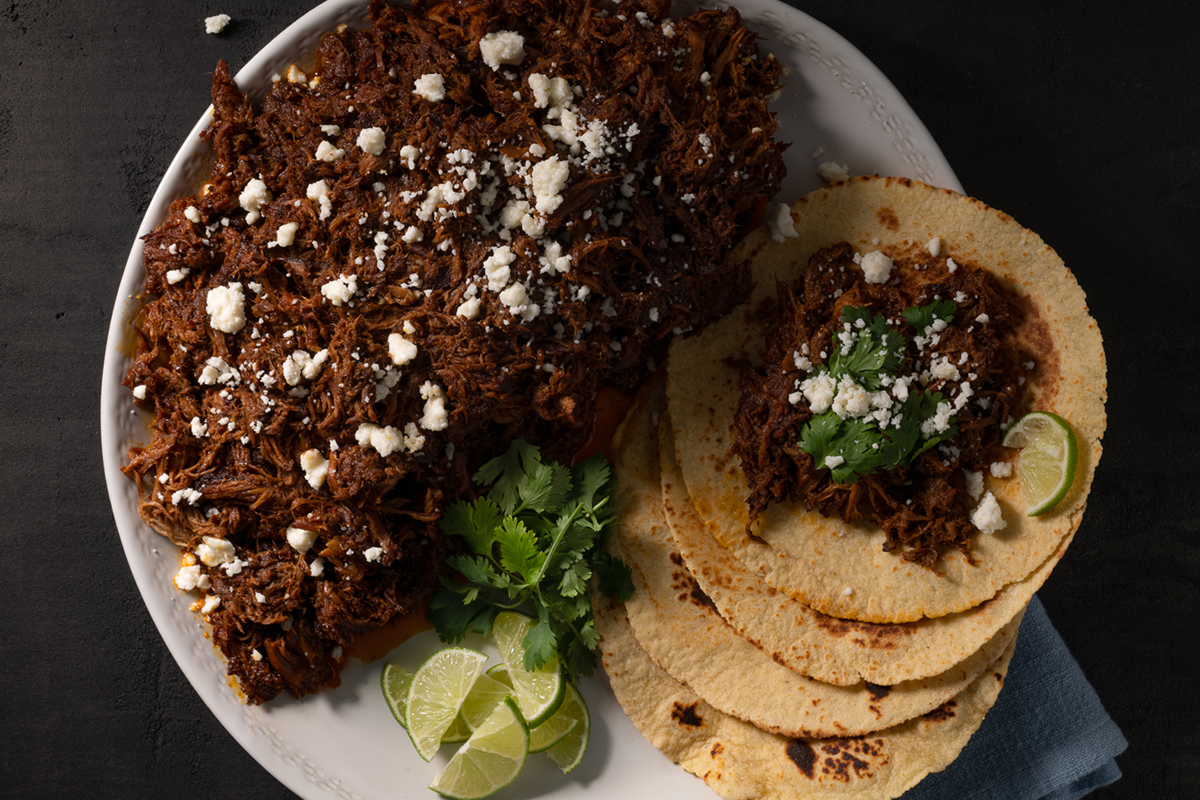 1 Prairie Fresh USA Prime™ pork shoulder butt
3 tablespoons kosher salt
2 teaspoons black pepper, ground
1 tablespoon vegetable oil
Ancho Chili Sauce:
2 ounces Ancho chili peppers, seeds and stem removed
2 ounces Guajillo chili peppers, seeds and stem removed
1 can (14 ounces) tomatoes
3 tablespoons garlic, roughly chopped
12 ounces sweet onion, diced (about 1 large onion)
1½
teaspoons cumin, ground
½
teaspoon chipotle powder
1 teaspoon white sesame seeds
2 bay leaves
2 teaspoons brown sugar
1 tablespoon kosher salt
2 ounces chocolate, unsweetened
Pickled Red Onions:
16 ounces red onion, peeled, cut in half, 1/8-inch slices
1 teaspoon whole black peppercorns
6 tablespoons sugar, granulated
Ancho Chili Sauce
This sauce can be made the day of or up to two days before you plan to serve.
In a small sauce pot, add the cleaned chilis and cover with water. Simmer for 15 minutes or until soft. Remove from heat and strain. Reserve the liquid in a bowl.
In a blender, add strained chilis, tomatoes and about 2 cups of reserved liquid. Do not over fill blender with hot liquids. Puree until smooth. In a mesh strainer, strain mixture. Add remaining reserved liquid to strained mixture and set aside.
In a medium sauce pot over medium-high heat, add vegetable oil. Add diced onions and cook until caramelized. Add garlic until toasted and golden. Mix cumin, cinnamon, oregano, chipotle powder, sesame seeds, bay leaves, brown sugar and salt. Add to sauce pot with onions and garlic and stir constantly until seasonings are toasted and fragrant or about 20 seconds. Add pureed chili-tomato mixture and chocolate. Bring the Ancho Chile Sauce to boil and then lower to a simmer for about 15 to 20 minutes, stirring frequently. Chill in refrigerator if not braising same day.
Pork Roast
Preheat oven to 350 F. Liberally season all sides of pork with salt and pepper. In a 5-quart Dutch oven or similar size cookware with a lid over medium heat, add vegetable oil. Once oil is hot, add pork and sear on all six sides for about 4 minutes each side. Remove pork from Dutch oven and discard remaining oil in pan. Leave fond in bottom of pot. Return pork shoulder butt roast to Dutch oven with fat side up. Add Ancho Chili Sauce over the top. Make sure sauce comes halfway up the side of the pan and no more than three-quarters. If sauce does not fill half the pot, add chicken stock or water.
Cover pot to braise in oven for 4 hours. Remove the lid and cook for an additional 2 hours. Remove from oven and let the pork roast rest for 15 minutes.
Remove the bone if using bone-in shoulder butt, which should pull out cleanly, and proceed to lightly break apart the meat with two forks, incorporating the remaining braising liquid as you go. Cover with the lid and hold warm.
Pickled Red Onions
Place a medium-sized sauce pot two-thirds full of water and bring to a boil. To blanch, add sliced onions and boil for 2 minutes. Strain and discard the water. In a separate small sauce pot, bring 1 cup water, red wine vinegar, bay leaf, black peppercorns, kosher salt and sugar to a boil. Once the salt and sugar has dissolved, strain mixture and immediately pour over onions, allowing the pickling liquid and onions to cool down together. Chill until ready to serve with pork.
To serve, place a heaping mound of Ancho Chili Braised Pork in a serving bowl with a small dish of pickled red onions and some toasted tortillas. You can garnish with crumbled queso fresco, chopped cilantro and wedges of lime.
Chef's Note: Braising is a cooking technique that I always look forward to using. Whenever you can slowly cook a beautiful piece of meat and yield the most tender and delicious end results, I'm in!! This Ancho Chili Sauce is a take on a classic Mole. It provides the perfect balance of sweet, savory and spice as a complement for this pristine, well-marbled pork shoulder. The sweet and sour Pickled Red Onions provide a great balance to all those flavors as well as cutting the natural richness of the pork shoulder. A dry Riesling or a dark Mexican beer, such as Negro Modelo, will pair nicely with this meal.