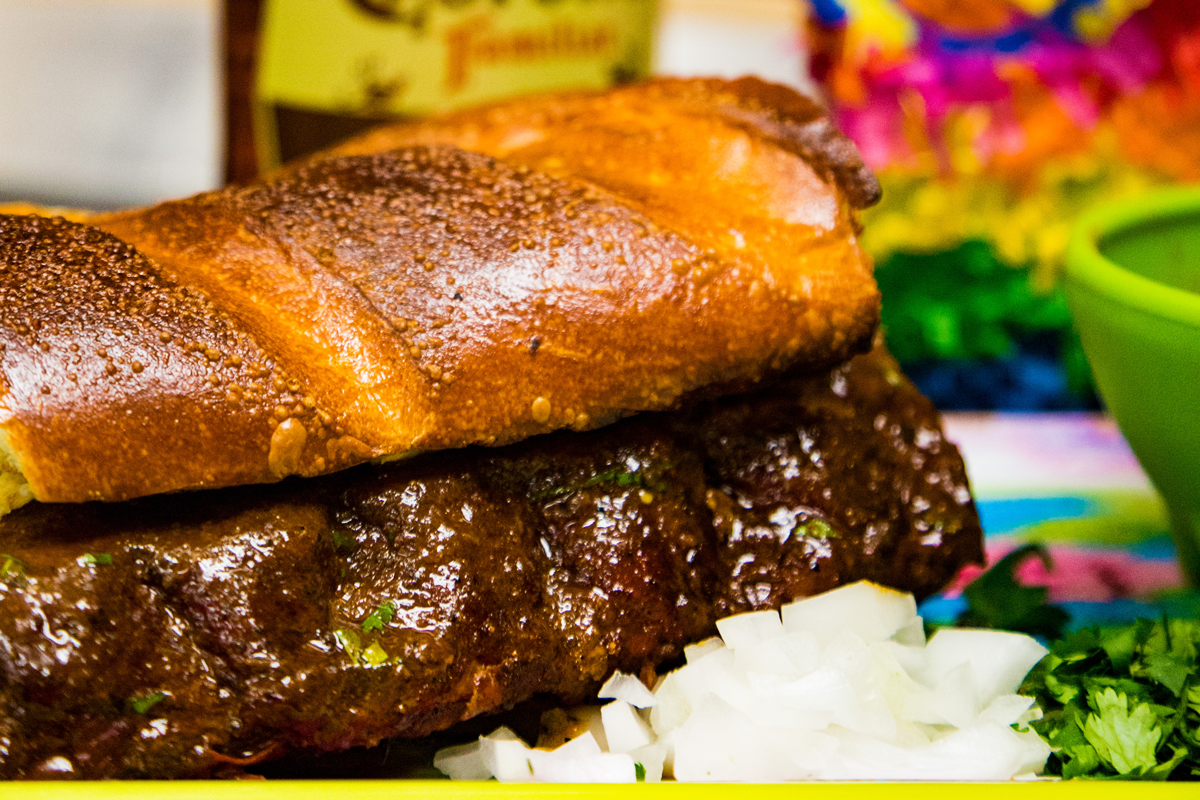 Birria-Style Rib Dip Sandwich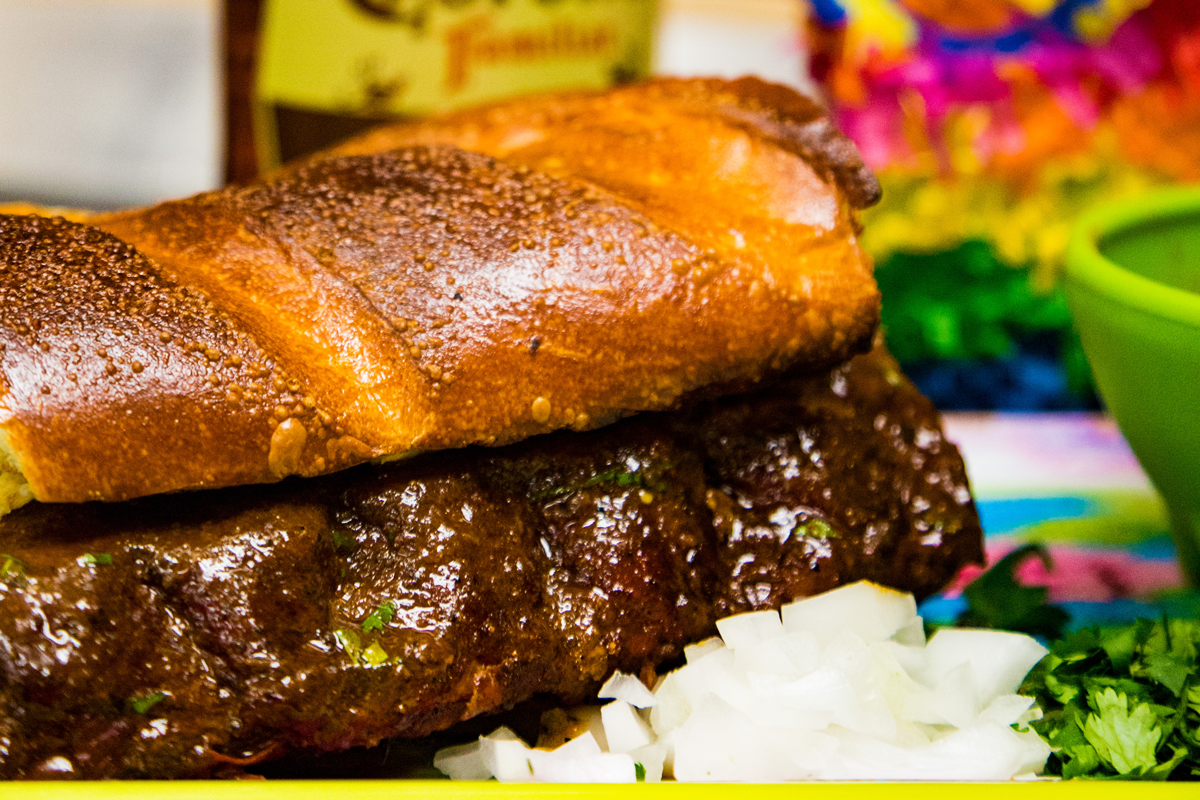 1 slab Prairie Fresh Pork Loin Backribs
To taste Risky Brisket Red Sauce
To taste Fergolicious Original LUV Rub or favorite savory barbecue rub
To taste 50/50 blend cumin/chili powder (mix your own)
Consommé
32 ounces vegetable stock
3 ancho peppers, rehydrated and ground into paste
3 guajillo peppers, rehydrated and ground into paste
1 tablespoon Fergolicious Original LUV Rub
1 cup white onion, chopped
½ stick butter, unsalted, cut into pats
4 cloves garlic
2 dashes Ricky Brisket Red Hot Sauce
2 bay leaves
Dipping Sauce
1 dash Risky Business Red Sauce
½ cup white onions, chopped
1 bundle cilantro, chopped
3 lime wedges, squeezed
1 teaspoon Fergolicious Original LUV Rub
To taste Salsa Verde
Sandwich
1 large French baguette
To taste Mozzarella or Quesillo cheese, shredded
Chopped onions
Chopped cilantro
Lime juice
Fergolicious Red Hot LUV Rub or favorite hot barbecue rub
Risky Brisket Red Sauce
Preheat smoker to 300 F.
Remove membrane from ribs. Spread hot sauce over the ribs to bind rub to ribs.
Season with Fergolicious Original LUV rub plus cumin and chili powder rub. Pat on the ribs. Do not rub. Let set for 15 minutes before smoking.
Smoke ribs for 1 hour.
In a deep baking dish or half aluminum pan, mix consommé ingredients.
Cut rib rack in half. Place in pan meat side down. Wrap with foil.
Return to smoker and cook for 1½ hours or until rib bones are easy to pull out.
While the ribs cook, make dipping sauce. In a bowl, add onion, cilantro, lime, chili powder, Salsa Verde and hot sauce to reserved consommé. Mix.
Remove bones from rack, keeping the ribs in two whole pieces.
In a fat separator, filter consommé and set aside.
Cut bread loaf in half and then in half lengthwise. Use basting brush, brush filtered consommé on bread. Toast on smoker cut side down to make crispy. Turn over and add shredded cheese and cook until cheese melts. Remove from smoker.
To assemble sandwich, place ribs on bread bottom. Add onion, cilantro, lime juice, rub and Salsa Verde.
Cut into serving size and dip in sauce.